RDGGUYS sells and integrates the world's highest quality and most accurate Label Print Inspection and Barcode Quality Verification systems. The GS1 US certified LVS Integra 9500 Barcode Print Quality Station For Barcode Print Quality Verification & OCR Match (All-In-One), the LVS 7000 Vision System for high speed wide web label inspection, and the new low cost LVS 7500 Vision System for thermal transfer print inspection and medium speed labeler use, all lead the marketplace in capabilities, accuracy of inspection, and cost effectiveness.
Standards Compliance

ISO 15416
ISO 15415
ISO 15426
ISO 16022
MIL STD 130N
ITS199-002 (7-02)
UID Guidelines 07/29/03
GS1 EAN Application Specification (GENSPEC)
E-Pedigree Ready
CFR21 Part 11 Compliant - Full Audit Trail

ISO/IEC/ANSI Verification

Edge Determination
Minimum Reflectance
Min Edge Contrast
Decode
Symbol Contrast
Modulation
Decodability
Defects (spots/voids)
Quiet Zone
Blemish
Validation of Human Readable by OCR / OCV

Supported Symbologies Include,
but are not limited to:

Code 39
ITF (Interleaved 2 of 5)
UCC/EAN-128
Code 128
Codabar
UPC-A
Code 93
UPC-E
EAN-8
EAN-13
GS1 DataBar Omnidirectional
GS1 DataBar Stacked Omnidirectional
GS1 DataBar Limited
GS1 DataBar Expanded
GS1 DataBar Truncated
GS1 DataBar Stacked
GS1 DataBar Expanded Stacked
PDF 417
MSI Plessey
MicroPDF 417
Laetus Pharmacode
Databar Composite Code CC-A
Databar Composite Code CC-B
Databar Composite Code CC-C
DataMatrix (ECC-200)
QR Code & Micro QR Code
Aztec


Supported Standards

CONFORMANCE STANDARDS:
ISO/IEC 15415:2000(E)
ISO/IEC 15416:2000(E)
ISO/IEC 15426-1:2000(E)
ISO/IEC 15426-2:2004(E)
APPLICATION STANDARDS:
GS1 General Specifications
MIL-STD-130M
AS9132-A /AIM DPM Cat 0
Laetus Pharmacode
Laetus Standard
Laetus Minuature Pharmacode
ISO/IEC 15415/15416
DHL
ALDI
PZN (big, normal, small)
Multi-Rotation Data Matrix
Multi-Rotation QR Code
GS1 Report
Italian Pharmacode
GS1 STANDARDS:
EAN/UPC
ITF-14
UCC/EAN-128
EAN/UPC & extended codes
UCC/EAN with Supplementals
GS1 DataBar Omnidirectional
Data Matrix for Healthcare
EAN/UPC with CC
UCC/EAN-128 with CC
Databar -14 with CC
DataMatrix (ECC 200)

The INTEGRA 9580 is a high performance handheld solution for off-line bar code verification to ISO/IEC standards. Featuring a high resolution 5.0 megapixel camera, the INTEGRA 9580 reads and analyzes linear (1D) and two-dimensional (2D) codes up to 3.0 inches (76.19 mm) wide and up to 2.25 inches (57.15 mm) tall.
The INTEGRA 9580 verifies multiple bar code types, including any combination of Linear, Matrix (Data Matrix, QR Code, and Aztec Code), and Stacked Linear (PDF 417, Micro PDF and Composite Codes). Contact LVS® for a detailed list of supported standards and symbologies.
Powered by a 10-foot (3.0 m) USB 2.0 cable, the INTEGRA 9580 verifies bar code labels located on a wide range of surfaces including corrugated cardboard boxes, shipping containers, and metal surfaces.
The LVS® 7500 offers 100% print quality inspection and barcode verification for Thermal and Thermal Transfer Printers. Built on the powerful LVS® 7000 software platform, the LVS® 7500 functions include master-to-label comparison (blemish detection), barcode verification (1D and 2D), barcode validation (1D and 2D), optical character recognition (OCR), optical character verification (OCV), PDF Comparison, field matching, and number/data validation. Learn more about each function in the following sections.
Additionally, the powerful software includes automatic setup for quick label and field identification, job retrieval for recall or modification of previous runs, and a robust alarm matrix for user defined I/O interaction with peripheral devices including line and printer stop capabilities.
The LVS® 7500 provides a cost-effective means to identify defects, eliminate fines and disputes, avoid liability, reduce re-work, and control waste resulting from labeling or print quality errors. The LVS® 7500 is ideal for:  Pharmaceuticals  Medical Devices  Clinical Trials  Contract Packaging  Manufacturing  Label Converting
The INTEGRA 9510 is for offline verification of bar codes to ISO/IEC standards. The INTEGRA 9510 is unique in the world of ISO verification due to its ease of use and ability to verify linear and two-dimensional (2D) codes without any change of equipment; autodiscriminate the symbology, narrow bar width and aperature to be used to evaluate the code; and highlight trouble spots in the code. Additional outstanding features include:
The INTEGRA 9510 inspects all nine of the ISO (ANSI) parameters, plus added features of determining blemishes, opacity, and human readable validation. The INTEGRA 9510 also verifies 2D codes and reports all parameters as specified in the applicable symbology specification.
Analysis is color coded to show exactly where the problem is located within the bar code, and sections of the bar code can be analyzed to determine how to solve the problem. Reference to an online Help screen helps aid in the analysis.
High-resolution inspection of the bar code is possible due to the use of a 5.0 megapixel high resolution camera, which allows reading and analyzing every two thousandth of an inch (.002"/.05 mm) of the bar code height; this exceeds the minimum ten-scan average required by ISO.
The INTEGRA 9510 is certified by GS1 US and is 21 CFR Part 11 compliant-ready.
Multiple codes, including any combination of Linear, Matrix (such as Data Matrix, QR Code and Aztec Code) and Stacked Linear (such as PDF 417, Micro PDF and Composite Codes) can be verified on one label within the field of view.

The INTEGRA 9570 is a 1D and 2D handheld bar code verifier designed for offline verification of bar codes to ISO/IEC standards. The INTEGRA 9570 is unique in the world of ISO verification due to its ease of use and ability to verify linear (1D) and two-dimensional (2D) codes using a lightweight, handheld verifier; autodiscriminate the symbology, narrow bar width and aperature to be used to evaluate the code; and highlight trouble spots in the code. Additional outstanding features include:
Inspection. Inspects all nine of the ISO (ANSI) parameters, plus added features of determining blemishes, opacity, and human readable validation. The INTEGRA 9570 also verifies 2D codes and reports all parameters as specified in the applicable symbology specification.
Detailed Analysis. Analysis is color coded to show exactly where the problem is located within the bar code, and sections of the bar code can be analyzed to determine how to solve the problem. Reference to an online Help screen aids in the analysis.
Advanced Technology. Sensor technology allows more detailed analysis of the bar code, and makes reading of small and truncated codes possible, accurate and easy.
Numerous Verification Options. Multiple codes, including any combination of Linear, Matrix (such as Data Matrix, QR Code and Aztec Code) and Stacked Linear (such as PDF 417, Micro PDF and Composite Codes) can be verified on one label within the field of view.
ISO Grading. ISO grades bar codes on various label sizes.
Accurate. The INTEGRA 9570 is the most accurate handheld verifier on the market today with the highest degree of accuracy and repeatability.
EAN/UPC NIST Traceable Calibrated Conformance Standard Test Card. The INTEGRA 9570 is supplied with a NIST traceable calibrated conformance standard test card provided by GS1 to ensure that the system is always within a known calibration standard.
21 CFR Part 11 compliant-ready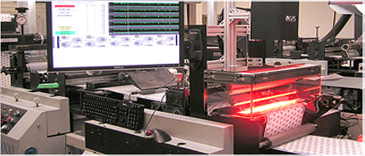 LVS® 7000 In-line Print Quality Inspection System
The LVS® 7000 is the only Vision System on the market capable of blemish/defect detection, plus variable data, barcode reading and ISO grading capabilities.
The LVS® 7000 is a vision-based system designed to inspect print quality at line speeds for the following areas:

Barcode Grade (Barcode Verification to ISO/IEC Standards) of 1D and 2D Codes
Barcode Read (Barcode Validation) of 1D and 2D codes
Optical Character Recognition (OCR)
Optical Character Verification (OCV)
Master to Label Comparison (Blemish Detection)
Barcode Health Check
Delta E